Pratsam Producer
With or without speech synthesis
Pratsam Producer is a solution for the production of accessible digital publications such as DAISY books, with or without audio. Pratsam Producer supports the production of accessible publications through speech synthesis and, for example, is an excellent way to quickly and automatically produce accessible newspapers.
Management of different file formats
With Pratsam Producer it is possible to import and manage different file formats, such as PDF or XML. Pratsam Producer sorts the essential elements into a database and then exports various formats from the database, such as XHTML, DTBook, EPUB or Microsoft Word documents. This enables an optional manual post-editing and control of content before a speech synthesis production to DAISY or EPUB with audio.
Pratsam Producer includes an advanced automatic comparison and verification of XML content versus PDF content, which is especially useful in regard to the quality control of accessible newspapers during automated production. The content can be stored on a daily basis for later use, which is useful when improving speech synthesis pronunciation.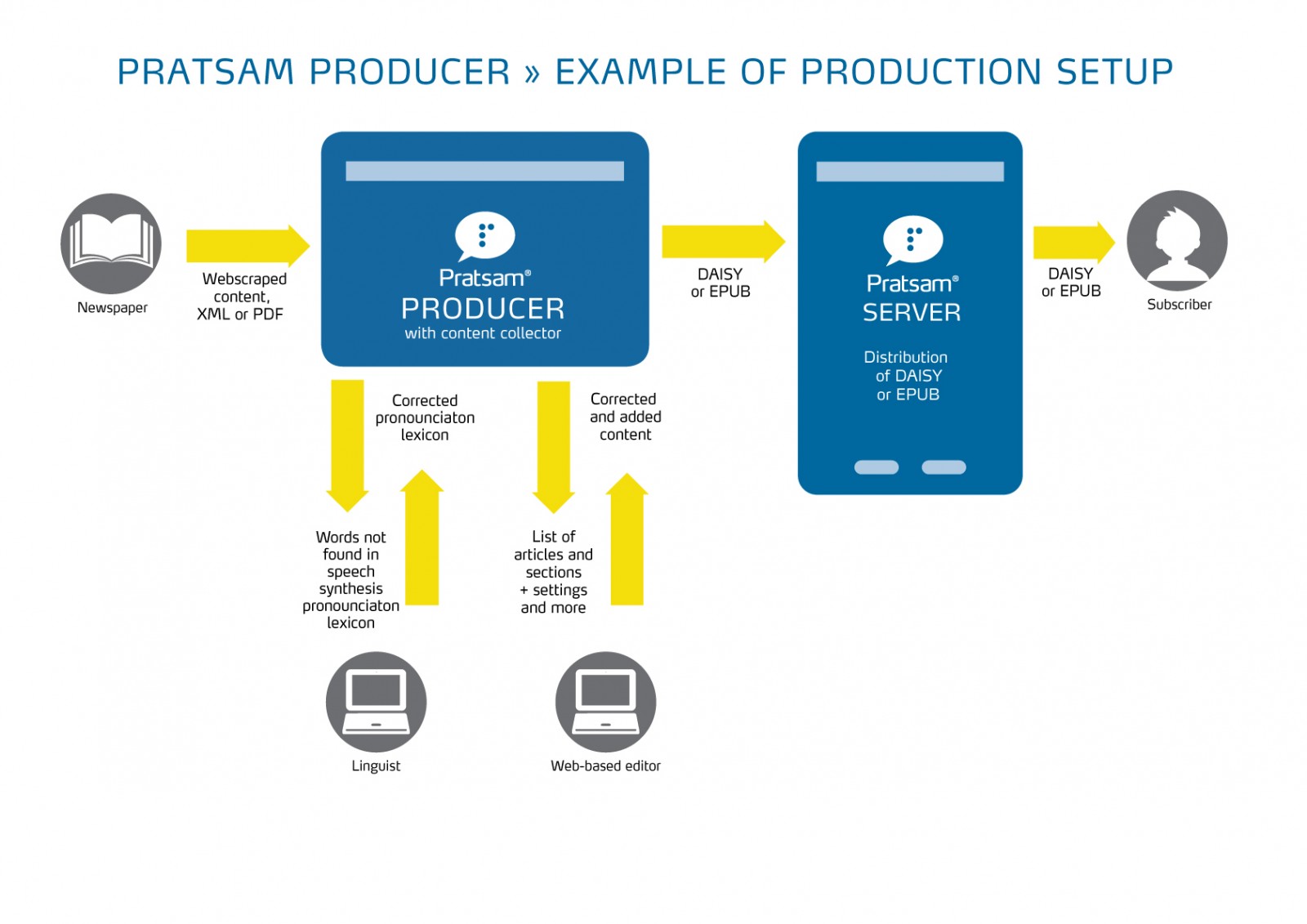 View the graphics in more detail by clicking here
Fetching content with web scraping
Web scraping is an optional method to fetch content from web pages with Pratsam Producer. This approach can be used to login and fetch news articles from a website during the day and automatically publish the collected articles as accessible DAISY- or EPUB-publications several times a day, suitable for the end users app or device.
If there is a need to edit the content or add articles and ads before publishing, there is a web based editor available for editing the web scraped content but also to manage the article sorting, edit metadata and to add articles (pictures available on the left side). Publishing can be scheduled and at the end of the day a "daily publication" can be archived with all articles from one day.
Cloud service or dedicated service
Pratsam Producer can be delivered as a dedicated service or a cloud service. The service is easily scalable to different publication volumes.
Supports DAISY and EPUB production
Pratsam Producer supports DAISY and EPUB, the most common accessible formats used by visually impaired and other reading disabled.