Accessibility Library Celia
Internet services replacing CD distribution
The Finnish state-owned Accessibility Library Celia provides literature (fiction, non-fiction and educational) in accessible formats to those who are unable to read standard, printed books. Celia's books are available as accessible audiobooks, e-books or in Braille-format.
Over 50.000 individuals uses Celia's services and over 70 percent of the loans are delivered to end user apps and devices with the Pratsam online system. Celia's strategy is to move all distribution of talking books online.
Celia started to investigate and test various alternatives for the distribution of accessible books over the Internet in 2008. Prior to this, subscribers reserved books online via Celia's webpage, which were then distributed through the mail in the form of CDs or cassette tapes.
Celia sought an online distribution system that could be integrated with its already existing library system, through which the administration of subscribers, audio material, etc. and lending was organized.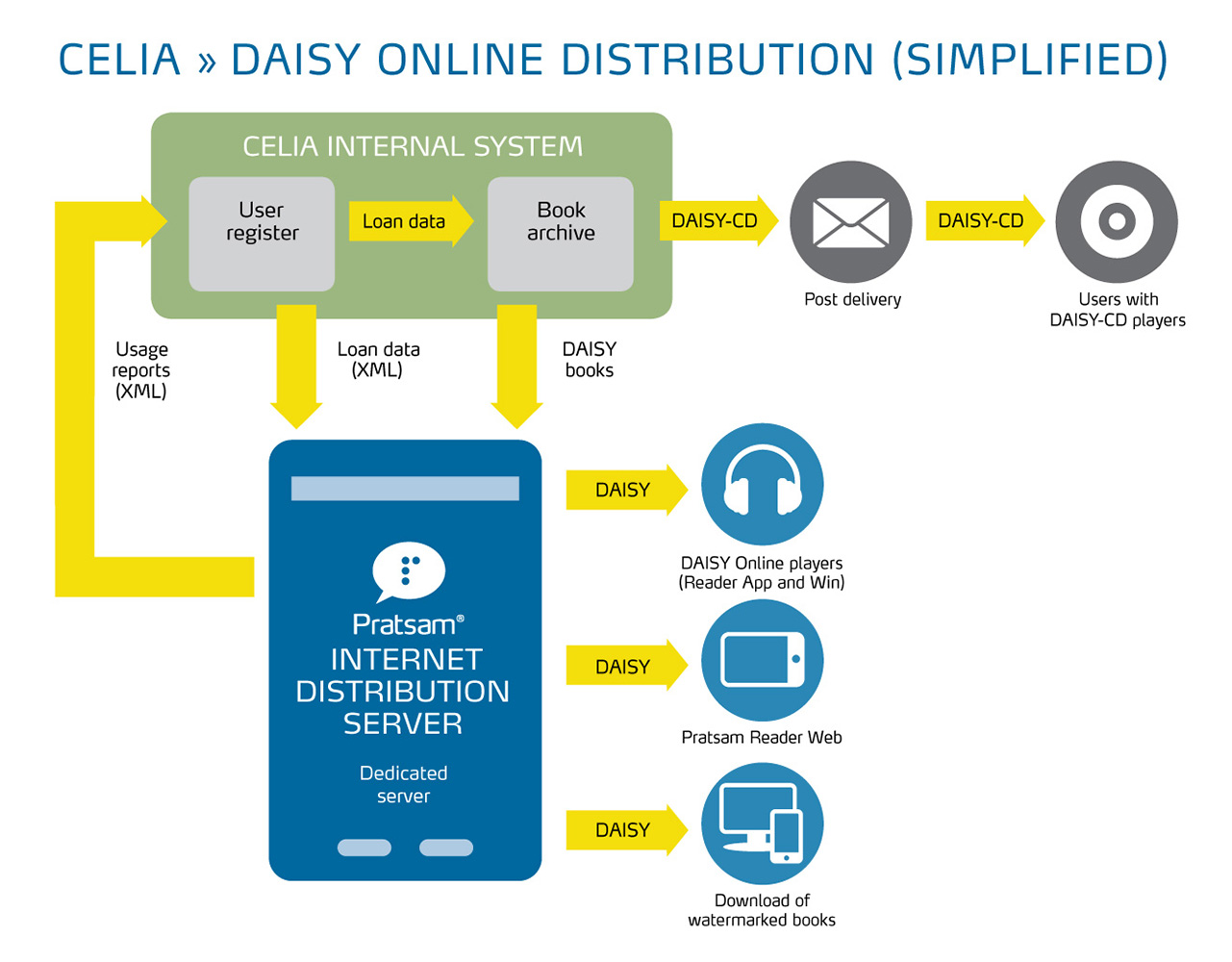 View the graphics in more detail by clicking here
Immediate availability
In 2009 a Pratsam solution was integrated into the Celia system and the new online distribution was taken into use. The introduction of the new system occurred at the same time that Celia digitalized its entire analogue library; numbered at the time as 28.000 accessible publications (now over 40.000 titles).
In the initial version, the new online service streamed accessible books to a Pratsam software program called PuhElias Reader, used with Microsoft Windows. One advantage of continuous streaming was that a subscriber could start to listen to a text immediately after it had been borrowed.
Today, the software program PuhElias is called Pratsam Reader Win and, in addition to other various improvements, now also supports the DAISY Online Delivery Protocol.
Online users up 50 percent per year
In 2011, Celia's online distribution system entered a second phase of development. During this second phase, the international DAISY Online protocol was supported and Pratsam thereby became the first in the world to deliver a supplied solution using the new standard.
During a third phase of development, Celia together with Pratsam launched the Vera service, which included a web app-player for direct playback using a web browser (Pratsam Reader Web). The Vera-service also enabled download of accessible books with audio watermarks (the audio watermarking technology was developed by Pratsam). Following these improvements, the online use of Celia's services has increased at a rate up to 50 percent per year.
Substantial cost savings
Since Pratsam's distribution solutions and DAISY players for computer and mobile devices have been supplied, more and more Celia subscribers have switched from borrowing CDs to digital distribution.
Up until year 2015 over a half million audiobooks were delivered online and in 2021 alone, over 900.000 Celia books were read via the internet. The amount of books delivered online is over 70 percent of the total amount delivered. This in turn has led to substantial savings for the library, in regard to copying and postage costs.
Introduction of Pratsam Reader App
During autumn 2015, Celia introduced the Pratsam Reader App for iOS or Android mobile devices. Over the space of one and a half months, 1.000 subscribers downloaded the Pratsam Reader App.
In the end of 2017 the subscribers using Celia online services reached almost 14.000. Today the number of online users are over 50.000.
An impartial, third party has evaluated the security of the online services available through Celia (provided by Pratsam) and determined that they are of a high quality and secure.